Telephony – New Ways of Connecting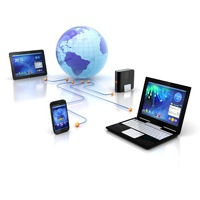 Contact AlfeNet Consulting, Inc. and ask about switching your office telephony from old-fashioned analog system, or simple IP phones to Unified Communications. Here's why:
Unified Communication (UC) is a comprehensive solution that ties several components together with user experience.The most popular provided of UC equipment is Cisco. Cisco Unified Communications is a leader on the telephony market since it ensures prime, innovative variety of solutions at a very affordable price.
Unified Communications
Unified Communications components include:
Call control and multimodal communications – routing calls effectively and efficiently to the right recipients
Presence – UC offers feature that can indicate if the recipient is available or not
Instant messaging – engage in business conversation via live chat
Unified messaging – now you can communicate over email, fax, text or video message, or voicemail
Speech access and personal assistant -your phone can recognize your voice so you can delegate call tasks simply by saying them
Conferencing – what used to seemed like impossible now is available to you; communicate and conference via audio, Web and video telephony
Collaboration tools – work together on the same file (text document, spreadsheets, drawings, pictures) at the same time
Mobility – users can re-direct IP calls to different phones, including cell phones
Business process integration (BPI) synchronize the internal operations of your company along with your partners and clients
Benefits of Unified Communications
Numerous benefits of UC for your company:
– Reduction of total cost of ownership
– Enhancement of business productivity
– CRM integration
– Integration of 3rd party clients
– Corporate news and announcements on the IPPhone
– Ability to schedule conference and meeting rooms from IPPhone
– Enhanced security through authentication and encryption